Stone has been used in building and design for thousands of years, and continues to be a very popular choice today. One of the most readily available materials, its uses are almost as varied as the stones themselves.
One of the best ways to use stone is with the interior design of a home or other building. With many different types of stone available, the possibilities are almost endless for those with creative minds and a willingness to work.
Decorating
Stones can be found in either their natural form or in a manufactured form known as veneer stone. Veneer stone can be either natural or man-made, and is cut or molded to create a pleasing appearance.
However, adding stone to the interior of a home not only helps the looks of a home but also adds style and character to any room. Because of its durability, different texturing and various colors it's one of the most popular choices for decorating.
Walls
One area of a home where stone is widely used is on load-bearing walls. The two most popular kinds to use for this are rubble and fieldstone. Fieldstone is also referred to as river rock, because it's easily found in river beds or open fields. Rubble is quarried stone that's been split or cut, creating a finished edge that's striking when used on walls.
Fireplaces
Fireplaces and mantels are also popular choices when using stone for interior design applications. These are often focal points of living rooms, dining rooms, rec rooms or studies and are always looked upon with importance by homeowners. Fireplaces and mantels are associated with strength and character, so adding stone to these helps create a winning combination. The two most popular stones used for this are cobblestones and veneer.
The veneer used for these is manufactured from concrete and colored with natural dye to give it a unique look. Other natural stones like river rock, granite or quarried stone is used to give a great look and feeling of strength and security.
Backsplashes
More and more people are choosing to use stone on backsplashes rather than tile. Using flat, natural stones like Ashlar and flagstone are becoming commonplace on backsplashes. Flagstone comes in various shapes and sizes, allowing it to be used to create a unique look for any backsplash.
What makes these stones so popular with homeowners is their availability in a variety of colors including beige, blue, gray and green. With so many colors and shapes, the possibilities are almost endless. Ashlar stones are also available in different colors and shapes, and are cut into rectangular patterns. They are often installed in course layers, random patterns or planned patterns depending on a person's preference.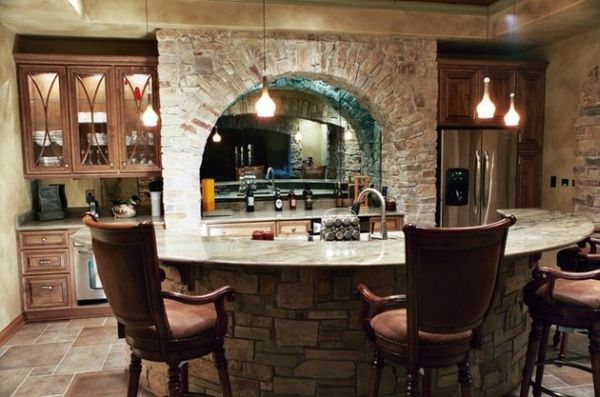 Drinking Bar
For those homeowners who love to entertain, having a bar is a necessity. Whether it's an elaborate bar in a basement or a classic living room bar, using stone in the building and design of a bar can add a great look to any home.
Many people choose stone veneer as a way to get a great look for a low price. Most folks use veneer for the bar tops and stacked stones that look heavier and thicker for the sides.
Whatever project a person has in mind, using stones is a great choice to add character, style and strength to any home.
Phillippa represents http://www.stancliffe.com/ and loves to write about home design, DIY, and general shopping subjects.